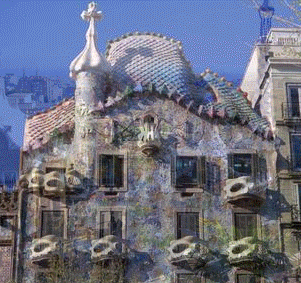 Barcelona – colorful, enchanting and simply shining with energy, the capital of Catalonia and the second biggest city in Spain, always has a lot to offer to both new and old comers. It is truly a city of surprise and colors offering you a whole rainbow of unforgettable impressions during your visit ranging from its unique historical monuments, modern architecture, the sea, Spanish cosine and beautiful dances. Indeed, Barcelona is today one of the world's leading tourist, economic, trade fair and exhibitions and cultural-sports centres, and its influences in commerce, education, entertainment, media, fashion, science, and the arts all contribute to its status as one of the world's major global cities. It is included into five most visited places in Europe and is definitely a city that can offer your a myriad of impressions, colors and tastes even during a short stay!
The city, located directly on the northeastern Mediterranean coast of Spain, has a rich history dating back at least 2,000 years when it gained prominence as a Roman town under its old name, Barcino. It is Europe's largest metropolis on the Mediterranean coast, and the Barcelona beach has gained status as the best urban beach in the World according to National Geographic and Discovery Channel, with total third best beach in the World.
With its touching beauty, charm and most importantly — with its positive, dynamic and vibrant spirit Barcelona is also a fantastic place for an international convention of this magnitude and meaning. This city, as a crossroad of culture, business and constant innovation, is an ideal place for the international medical congress bringing professionals from all over the world for an intensive debate and for uniting our forces in finding the best approaches, innovations and solutions to help our patients, and to move forward the development of the whole medical area of psychiatry as such. And Barcelona is the place where we all need to be to make it happen!
Barcelona International Airport
Barcelona International Airport, also known as El Prat, is a major transport hub and fields flights from all over Europe and beyond.
Terminals: There are now two terminals, T1 and T2, the latter with A, B, and C subdivisions. T1 and T2 are linked by a bus shuttle (every 5 to 7 minutes, travel time 12 minutes).
Transfer to/from the airport: The airport is only about 12-14 km away from the city centre. Airport transfers can be arranged for groups, taxis are also available (€30-40 to the city centre). Taxis and Minibuses can be pre-booked online. Luxury car can book online on EuropeShuttle.